Discover more from Carters' Farm Newsletter
The newsletter of the Carter farm in Park Rapids, MN
Anticipation of Spring
Welcome to the Carters' Farm Newsletter, where you can find information on farm events and produce, our favorite recipes, and reflections from the family. We hope you enjoy!
It may be spring, but you couldn't really tell—unless you peered into the greenhouse. There, the tomatoes huddle together, anticipating the promise of spring and the warmth of summer…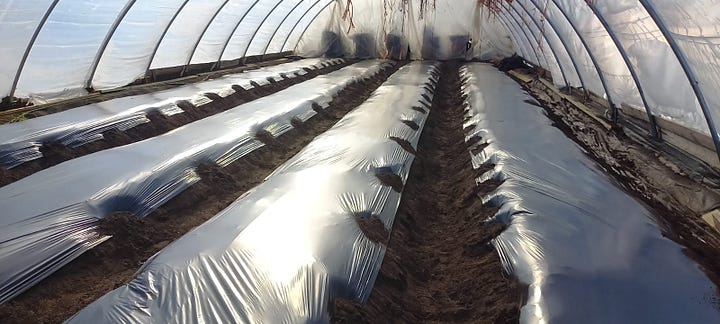 The work of spring picks up where the harvest of the prior year left off. Our high tunnel greenhouses allow us to have tomatoes a bit earlier in the summer and also provide more protection to the plants and fruit from outside wind and rain.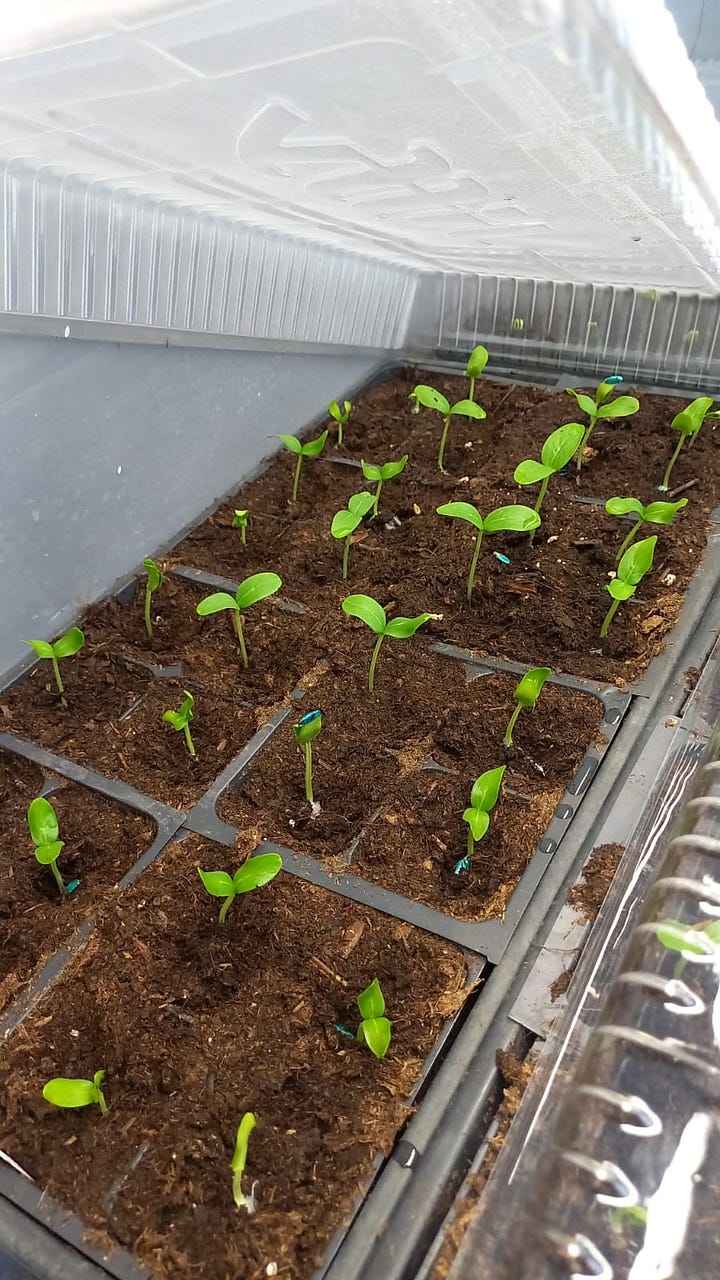 As many of you may know from tending your own gardens (or farms), it's a delicate process to nurse plants when they are so small and fragile. In the above pictures, we have cucumber seedlings (left) and romaine lettuce (right). While our primary summer crop this year is tomatoes, we also enjoy growing other vegetables. Cucumbers and lettuce go well with tomatoes, especially in a salad or sandwich. However, each vegetable and fruit is treated a little differently than the next. That's the beauty in the array of shapes, textures, and tastes.
---
MARY'S LEMON BARS
A Family Recipe
May in Minnesota is brimful with expectation. In the greenhouses, spring is well on its way. After weeks of careful tending, seedlings stretch toward the sun, clambering for warmth and nourishment. The people are no different. After a season of cozy evenings and frosty mornings, we clamor for sunshine on our faces and summer's bounty on our tables. But the earth is slow to stir from her long winter's nap.
The asparagus and rhubarb that herald summer's beginning are still sleeping under a lingering blanket of snow. Until they send out their first valiant shoots, we nourish our expectations with what is available. When winter has perhaps overstayed her welcome, our family loves to anticipate the freshness of spring with these lemon bars. Calling to mind daffodils and cheery raincoats, they're a classic on our table—whether snow is still falling, or dappled sunlight is already peeping through blossomed trees.
—Anna Kvale, daughter of Rita (Carter) Blake
INGREDIENTS
shortbread layer
1 c unsalted butter, melted
½ c granulated sugar
2 tsp. Vanilla extract
½ tsp. Salt (omit if using salted butter)
2 c + 2 Tbsp. white flour*
lemon layer
2 c granulated sugar
6 Tbsp. white flour
6 large eggs 
1 c freshly squeezed lemon juice (about 4 large lemons)
Powdered sugar, for dusting.
METHOD
Preheat your oven to 325 degrees. Line a 9X13 glass baking pan with parchment paper, leaving plenty of overhang.

First, the shortbread layer: Combine butter, sugar, vanilla, and salt in a medium bowl. Add flour and combine until mixed. Press the dough firmly into your pan.

Bake for 20-22 minutes until just barely beginning to brown on the edges. With a fork, poke a few scattered holes in the crust. This will help prevent the filling from separating from the crust. Set the crust aside.

Next, prepare the lemon layer: Sift the sugar and flour together into a large bowl (this step keeps the texture uniform, to avoid unpalatable flour chunks!). Whisk in eggs, then lemon juice, until combined.

Pour filling over the warm crust. Bake for 22-25 minutes, or until the center no longer jiggles when tapped. Remove from the oven, and let cool for at least 2 hours on the counter, then continue to chill in the fridge for at least an hour.

When ready to serve, remove from the pan using parchment paper overhand. Dust with powdered sugar, and cut into squares.
* While we love whole wheat flour in general, this is not the place to use it. The texture of the crust will be too crumbly.
---
Thank you for reading the Carters' Farm Newsletter! The next few issues will include an announcement on this year's fall festival, family recipes, and some thought pieces, including 'why we farm.'
The Carters' Farm Newsletter is a reader-supported publication. To receive new posts and support our work, consider becoming a free or paid subscriber.